Mushrooms are a food in Mope.io that spawn in the Land and Arctic biomes.
Technical
Appearance
Mushrooms are brown, with a short rectangular stem, and a large fleshy area that is shaped like a semi-circle.
The Red Mushroom is another type of mushroom that spawns in the Land and Arctic biomes. However, it can only be eaten by tier 6+, and provides more XP.
Technical
They spawn all around the Land and Arctic. Particularly found in patches of mud, in rivers and lakes.
Mushrooms at first give 150 XP for the lower tiers, but can give up to around 500 XP at full capacity.
When fed a lot of water, mushrooms will explode into more smaller brown mushrooms and a few berries. This can be done by pressing S into the mushroom.
In the code it is referred to as o_BigMushroom, giving it the name "Big Mushroom," sometimes referred to as Red Mushroom.
Appearance
They are like the brown mushrooms, except larger and with a red top. Red Mushrooms look rather like the cliché of mushrooms in fairy-tales or cartoons, excluding the white spots. It has also been unofficially dubbed the "Super Mushroom" due to the Super Mushrooms in New Super Mario Bros. which are red.
Main article: Mushroom Bush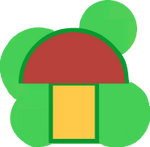 Mushroom bushes are a bush with a Red mushroom in them. They can spawn both variants of mushroom, but the whole bush can be eaten, too. For more information, refer to the
main article
.
Gallery
Trivia
Mushrooms were added when the game was released.
Before October 24 2016, instead of a Big Mushroom, there was a Dark Berry. However, this was replaced in a past update.
The Halloween Mushrooms were the only purple food in the game until March 14 2017, when the Clam was released.
In the old-themed Subreddit, Mushrooms are used as the icon to upvote and downvote posts.
Community content is available under
CC-BY-SA
unless otherwise noted.