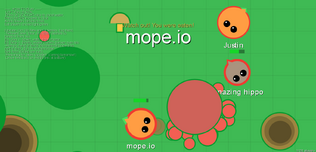 Mope.io is a survival-of-the-fittest type .io game in which you play as a small Animal and must eat Food and other players in order to climb up the food chain and upgrade. It was released on October 3rd 2016 but has been updated many times since then. You must also drink Water (or Lava, in the case of the Black Dragon or Phoenix) to decrease your thirst, or else you will die and produce Meat. Be wary of bigger animals with red outlines because they are predators and may well eat you. Eat animals with light-green outlines because they are prey and thus give XP. You can also eat predators by biting their tail.
Trivia
The default name of an animal is 'mope.io', but you can nickname the animal you play as anything you wish.
You can bite predators' tails.
If you are killed by a Special Ability, it will say,"You died! Watch your health" instead of the usual message.