Welcome to the Mope.io Wiki!
Welcome! We are a database for the online browser game Mope.io, that anyone can edit. Our goal is to become the best and most reliable source to document the game, for reference to the Mope.io community.


Currently this wiki has 272 articles, 3,580 files and 76,958 edits since opening on October 13, 2016.
About The Game

Mope.io allows you to play as an animal who eats food and water to survive. But be careful! There is an established food-chain. As you try to eat smaller animals, you yourself must also not be eaten by bigger animals. Animals with lime-green outlines are your prey, and animals with red outlines are your predators! Almost all animals have special abilities to help enhance gameplay - for instance, Pigs move fast on mud, Lions can roar, Penguins can slide on ice and Dragons can fly!
Community Notices
Please read the Rules before editing.
The game is updated on a regular basis, and it can be played on mobile! Just click here to start playing! Also for previews check out the beta!
Have any questions or comments? If you need any help, feel free to visit the Staff page for a list of every available staff member on this wiki. The Staff page also contains information on how to apply for a staff position, a list of staff ranks, and general rules everyone on this wiki should follow. Be sure to check it out!
Need to create a page for the wiki? Be sure to familiarise yourself with the page layout guide first!
Want to communicate and connect with fellow mope.io players and the devs? See Social networks for more information, or visit this wiki's Discussions to talk about mopeio related things!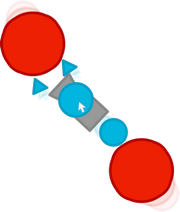 Community content is available under
CC-BY-SA
unless otherwise noted.