| | | |
| --- | --- | --- |
| | | This feature is not in the Beta yet, but it's coming very soon! If you are a content moderator or above, please do not delete this page or a Fox will bark you out of the Hiding Hole. |

The Gobi Bear is another upcoming desert animal confirmed by KOA. Its gonna be (obviously) the Bear tier animal of the desert. It has a Slash ability just like the other bears, but with a slightly different animation added to it.
Appearance
It has a dark brown body with a lighter brown part at the face and an even lighter brown part at the nose. It has two ears, a tail, and it has several rectangles around the body that resembles the fur.
Trivia
Its the third bear added. (others are Bear and Polar Bear).
Its the sixth desert animal confirmed by KOA.
While having the same ability, it has a slightly different animation as its counterparts.
Proof
Gallery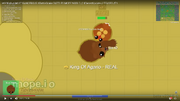 Desert
Animals
Kangaroo Rat ·
Desert Chipmunk ·
Meerkat ·
Armadillo ·
Gazelle ·

Fennec Fox ·

Camel ·
Warthog ·
Hyena ·
Gobi Bear ·
Rattlesnake ·
Vulture ·
Bison ·
Komodo Dragon ·
Blackwidow Spider ·