Clickstan
Stan Tatarnykov, better known as Clickstan is the developer of Mope.io. He lives in Toronto, Canada and has Ukrainian origins. He has a twitter account. Not much is known about him.
Trivia
On the mope.io subreddit, his flair image is a black version of the Dragon.
He was the only developer until October 29th, when Pike joined as a designer.
He apparently made a game called "Floppy Worm" and played Runescape.
Pike
Pike was the first designer of Mope.io, and he has made all of the animal skins and flairs. He isn't a current designer, however.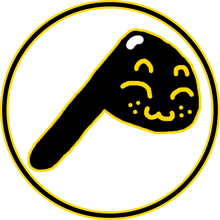 Also, he has a Twitter account and a YouTube account. He is also a moderator of the official mope.io subreddit, and an editor of this wiki: PikeYT
Trivia
He was the second person who took part in developing the game, after Clickstan.
He is actually French and is 15.
On mope.io subreddit he's image flair is black kraken.
On 10/12/2017, he resigned.
King Of Agar.io
The King Of Agar.io is the CO developer of mope.io. Like Pike, he has a YouTube channel too and uploads upcoming animals in the future, sometimes accidentally.
Trivia
He's flair on the subreddit is another version of black dragon
He also is the owner of MopeX, a mod pack on the chrome web store for mope.io
TheGiantSlug
TheGiantSlug WAS the main Designer of mope for almost 2 months. He is American and is 15 years old. He has a YouTube channel where he posts art challenges.
His YouTube channel:
https://www.youtube.com/channel/UCih74QvI3N_aNaO1kdYPDKQ
Recently he too, along with Pike!, resigned from mope designing. Slug stated he left because koa is an awful person to work with, and he has designing jobs elsewhere.
SirNathan
The third Designer for mope, was hired by Stan for a week before getting fired because koa refused to work with him.
Trivia
He is one of the well-known SubReddit artists, with his work being featured by many MopeTubers.
He is one of the few Designers to be featured in TB mods, the leading mope.io mod.
 Sam.ple
Sam.ple is the current and only official Mope.io designer. Stan hired him During Feb 2018. He created the Phoenix. Sam.ple's former names were Err0r and DaRealPhoenix.
.