This is a Beta Feature only accessable at beta.mope.io, and has not been released into the main game. If/When it gets released into the main game, remove this template.
The Camel is yet another upcoming desert animal. Its going to be the tier 7 animal of the desert. It can spit water to other players.
Appearance
The camel has a dark-yellowish body with ears, a nose and a tail with the top end of it being black. It also has a hump on its back.
Trivia
Normally a camel as two humps instead of one.
its the 7th desert animal confirmed by KOA.
Proof
---
Gallery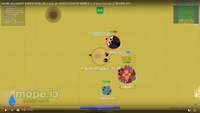 Desert
Animals
Kangaroo Rat ·
Desert Chipmunk ·
Meerkat ·
Armadillo ·
Gazelle ·

Fennec Fox ·

Camel ·
Warthog ·
Hyena ·
Gobi Bear ·
Rattlesnake ·
Vulture ·
Bison ·
Komodo Dragon ·
Blackwidow Spider ·