| | | |
| --- | --- | --- |
| | | This animal or thing is unconfirmed and might be confirmed in the future. Please, PLEASE, don't delete any info about it on this page or remove this template if it's still unconfirmed or else you will be fed to a Black Dragon by a Golden Eagle. |

The Bird Monster is a planned animal but it's not confirmed by KOA yet.
Appearance
Unconfirmed Data
Trivia
It's the last bird on the bird biome.
Gallery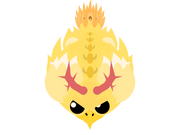 Birds
Chicken
Pigeon
Penguin
Woodpecker
Flamingo
Peacock
Snowy Owl
Toucan
Pelican
Macaw
Falcon
Vulture ·
Eagle
Upcoming Animals
Kangaroo Rat ·
Desert Chipmunk ·
Meerkat ·
Armadillo ·
Gazelle ·

Fennec Fox ·

Camel ·
Warthog ·
Hyena ·
Gobi Bear ·
Rattlesnake ·
Vulture ·
Bison ·
Komodo Dragon ·
Blackwidow Spider · Bird Monster (possibly) ·