This is a Beta Feature only accessable at beta.mope.io, and has not been released into the main game. If/When it gets released into the main game, remove this template.
The Armadillo was the 2nd desert animal that was shown in KOA's teaser and is going to be part of the desert update.
Appearance
It has a grey body with a face that looks like Dobby from the Harry Potter series. It also has 4 lines on the main body that let it look like its made out of 5 parts.
Trivia
It's the first animal to roll up in a ball.
The roll animation is basically a remake of the rolling pumpkin animation.
Proof
---
Gallery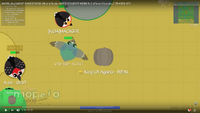 Desert
Animals
Kangaroo Rat ·
Desert Chipmunk ·
Meerkat ·
Armadillo ·
Gazelle ·

Fennec Fox ·

Camel ·
Warthog ·
Hyena ·
Gobi Bear ·
Rattlesnake ·
Vulture ·
Bison ·
Komodo Dragon ·
Blackwidow Spider ·